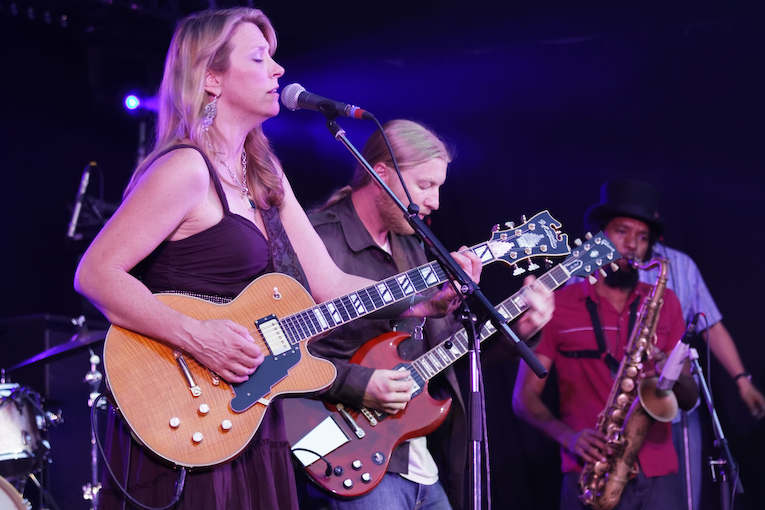 Tedeschi Trucks Band announces 'The Fireside Sessions' a series of six episodes of new home performances hosted by Susan Tedeschi and Derek Trucks. Via Nugs.net the livestream series will premiere February 18 and stream every Thursday at 8pm ET.
According to the press announcement, each episode will feature a different lineup of TTB band members, from Susan and Derek duo to an eight band member performance. The band will use The Fireside Sessions to debut several new songs written since their touring and live performances were halted due to the pandemic March 2020 in addition to a mix of favorites and deeper cuts from the back of the songbook.
The Fireside Sessions are the first TTB live performances  in 10 months.
"It's good to play again!" says Susan. "It's been months since we had a gig and it feels really great to be back. We hope everyone enjoys this and thanks for watching and listening."
Each episode will stream in 4K video definition by 7 Cinematics, with audio recorded, mixed and mastered by TTB's engineer, Bobby Tis. Audio from each session will be available for purchase as part of an mp3 bundle or separately for purchase in all additional formats. Each episode will be available on demand for up to 48 hours after the initial livestream. Ticket and bundle information can be found here 2nu.gs/TTB Virtual tickets start at $11.99 for one show HD webcast or $17.99 for the $K version. Six show bundles range from $119.99 to $149.99.
Adds Derek, "We want to thank everybody for supporting the band and crew and all the charities we've been supporting on this break. It's helping to keep this train on the tracks, so thanks for being there, it means a lot to everybody."
Proceeds from the "Fireside Sessions" will go towards the TTB band and its crew. The Tedeschi Trucks Band also established a TTB & Crew Support Fund for those who want to contribute directly aside from the livestream series

Tedeschi Trucks  Band Online
Website