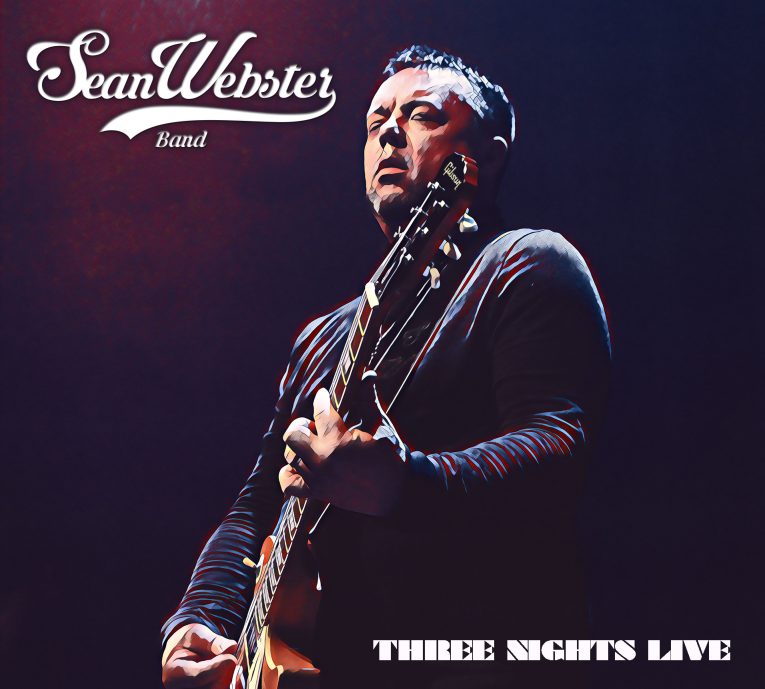 By Tom O'Connor
I'm still getting caught up on September releases. I'm glad I didn't miss out on Sean Webster's Three Nights Live, released on September 2nd. This crisp and impressive collection should go a long way in getting "best-kept secret" Webster some wider and well-deserved recognition.
Recorded over three nights of shows last March, Sean Webster and his bandmates; bassist Floris Poesse, drummer Ruud Gielen and keyboardist Hilbrand Bos squeeze every drop out of this lean ten-song set, making it a great introduction to Webster's emotive singing and wide-ranging blues guitar stylings.
The opening "woah-woahs" and silky organ work on "Give Me The Truth" will clue you in to Webster's sophisticated "city-blues" approach with its polished and pop-ish bounce. Proving you can up the intensity even when you dial back the tempo "Hands of Time" boasts a powerfully brooding and hypnotic groove, showcasing Webster's watchmaker-like songwriting skills and gritty, but never raspy, vocals.
The middle block of this collection features four momentous and extended explorations of some darker themes and emotions, starting with an epic ten and a half minute long cover of John Mayer's "Slow Dancing in a Burning Room." I could easily do eight hundred words on all the twists and turns in this enthralling ballad alone. Suffice to say, I'm sure Mayer himself will be impressed when he hears it.
The deceptively upbeat, shuffling groove of "Heart Still Bleeds" is a bit of a Trojan horse, sneaking up on you with its heartbreaking subject matter. Here again, Webster's vocals make this one a standout before we even get to the extended, and searing guitar break. Next up, "Hear Me Now" is the most classically structured "Blues" song of the bunch and a standout track in the collection, as the intimate vocals and the hip-sway tempo instantly draw the listener in closer, which makes the shifting dynamics hit all the harder when the band ups the volume and intensity. I can't really single out anyone's playing on this one, because it is the ensemble at its best.
Another candidate for standout track has to be "Don't Feel The Same," another deceptively slow and sweet groove that sets the table for another round of Webster's heartbreaking vocals. Once again, the band impresses with its patience and focus as they lock-in on the slow-tempo, high-stakes vibe. Webster's slow-building guitar solo is the soaring bird of hope that every she-broke-my-heart song needs to make it a classic.
After all that Blues heaviness, the band leans over to the rock side, perhaps even the "Southern Rock" side on the riff-tastic "The Mayor." Especially noticeable on this track are Ruud Gielen's big, booming drums and Hilbrand Bos' exquisitely phrased keyboard work. Proving that Webster might be the kind of musician who has a special knack with reimagining covers, his take on Keith Urban's "'Til Summer Comes Around" is haunting from its in-no-hurry, extended instrumental opening to its keening crescendo nine minutes later. I wouldn't be surprised if Urban, upon hearing this version, might have a few "wish I had thought of that" moments.
The two closing tracks tell me this isn't a band that's satisfied with just impressing an audience; they won't be satisfied until they have kicked some groovin' ass too. Coming at the end of an already intense set, "Highwayman" is just such an ass-kicker. Bouncing along on a relentless beat and a propulsive walking bass line from Poesse, Webster has the foundation he needs to tee off on an especially wide-ranging and impressive solo break. This is the kind of take-no-prisoners set closer that pretty much guarantees an encore from any audience that can still muster up the strength to applaud. Encore tune "You Got To Know" is a tasty coda with plenty of room for a final, impressive guitar break.
This is a well-timed "Live" album that culls some of the best tunes from Sean Webster's previous, equally impressive, studio recordings and throws in a few dazzling cover tunes. It is a treat for his fans and a great introduction for new listeners… and isn't that exactly what a good live recording should be? If Three Nights Live gets it's due; Webster won't be much of a secret in the days and years ahead.