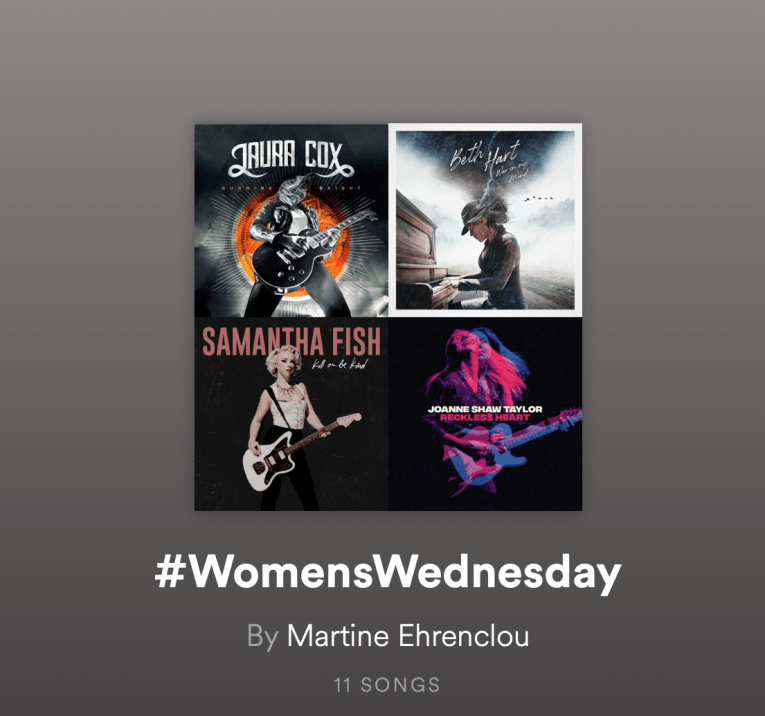 By Martine Ehrenclou
For #Women'sWednesday I put together a playlist of 11 great modern female rock and blues artists with new songs for you to enjoy. Most of these tunes are from the artists' new albums and are some of my favorite songs. These female artists are extraordinary musicians and songwriters. One thing is for sure, there is no shortage of outstanding, contemporary rock, blues and roots female musicians out there.
Kick back, relax and put on your headphones or crank up the speakers at home or in your car, and enjoy these tunes. I hope they kickstart your weekend. This is by no means all of the great female artists out there, just a sample of some I respect and appreciate.
Click on the link below and enjoy. I welcome your comments.
Below the link to the playlist there is information on each female artist should you want to explore their musical background and music. These women are badass musicians and singers.
Kill or Be Kind—Samantha Fish
Bad Love—Joanne Shaw Taylor
Without Words In The Way—Beth Hart
Fire Fire— Laura Cox
Super Bon Bon—Miss Velvet and The Blue Wolf
Like It On Top—Ana Popovic
Come On In My Kitchen—Larkin  Poe
Supernasty—Lynne Jackaman
Ghost—Hannah Wicklund & The Steppin Stones
It's A Woman's Way—Joanna Connor
Life Of The Party—Debbie Davies
For More Info on the Rock and Blues Female Artists See Below: